NATIONAL COMPETITION FOR IMPROVING WORKING CONDITIONS - XXXV Edition - Warsaw, November 2007 Category: Technical and organizational solutions applied in practice

For the 35th edition of the competition were sent 28 entries in technical solution category and usage in practice. During the rating of some competition entries Competition Court asked for the opinion experts whose were not Court's members.
According to given informations the analyse and rate of the competition entries was done. In accordance with criteria set out in the Rules of National Competition for Improving Working Condidtions, Competinion Court suggest Mrs. Minister to give:

The First Degree Arward
For the competition entry Cutting large size industrial chimney (made of reinforced concrete) platform.

Authors:
Ryszard Ratajczak, Włodzimierz Kaluba, Wiesław Milian, Tadeusz Kret, Ireneusz Madeiski - Specjalistyczne Przedsiębiorstwo Budowlane Savex Sp. z o.o. and Biuro Projektowo-Techniczne, Zgorzelec and Kret i S-ka, Chojnów.



"DOLNOŚLĄSKI KLUCZ SUKCESU" (Lower Silesian Key of Succes) - 10th edition - 2005
Category: The best Lower Silesian production company
employing up to 50 people

June 10th 2006 we have been awarded in 10th edition of Lower Silesian Key of Succes competition in category ' The best Lower Silesian production company employing up to 50 people'. The arward ceremony took place in Wrocław Opera.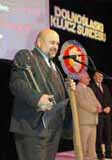 Read an article...
---
"Dolnośląski Gryf" Nagroda Gospodarcza
("Lower Silesian Griffin" Economic arward)
- for the most dynamic development
of small businesses in 2005

The prize awarded by Western Chamber of Commerce (pol. Zachodnia Izba Gospodarcza) promotes the idea of enterprise and creativity in Lower Silesian business and municipality environments and publicizes the most important economical and municipal events.
The competition is organised under the auspices of Marshal of Lower Silesia and Voivode (Governor) of Lower Silesia. The arward is given to companies or the local authorities which create conducive conditions for development of the enterprise and economy.
"Lower Silesian Griffin" are given by the Jury consists of representatives of region authorities, scientific authorities and important for the Lower Silesia businessmen.



Kret i s-ka company was awarded for the most dynamic development of small businesses in 2005.



Nagroda Zwi�zku Pracodawc�w Polska Mied�
(Polish Copper Employers' Association Arward)
- year 2005

The competition is dedicated for the companies established in the Lower Silesia Voivodeship (Province) for at least five years. They are rated on the basis of the current results and achievements in two years preceding the competition. The competition is judged in two categories:
1. Small companies - employing up to 49 employees,
2. Medium and large companies - employing 50 and more employees.



Kret i s-ka company has won 1st place in Polish Copper Employers' Association Arward competition in year 2005.



10 years of KRET I S-KA company - 1994-2004

For 10 years we designed unconventional machines, hydraulic, pneumatic and electric devices and systems. Read more...
---
Grand Prix im. prof. Roberta Szewalskiego
(Prof. Robert Szewalski memorial Grand Prix)
DRIVE AND CONTROL 2004

Every year on Gdansk International Exhibition (pol. Międzynarodowe Targi Gdańskie) takes palce technical exhibition related with drive and control. In year 2004 we reported to the competition two our original works which had been implemented year before. Both solutions were appreciated by the Exhibition Jury. First work was awarded GRAND PRIX of the exhibition, second one was given one of the two distinctions. Read more...
---
Konkurs INNOVATION 2003 Euroregionu
Neisse-Nisa-Nysa
(INNOVATION 2003 Neisse-Nisa-Nysa Euroregion competition)


Neisse-Nisa-Nysa Euroregion comprising three border areas of Poland, Czech Republic and Germany as transboundary area.
This relationship was created on the initiative of local authorities in May 1991 in Zittau, Germany as an instrument for solving region problems. After the early years of activity first successes are clearly visible and a lot of projects are in realisation or planning state.
One of such actions is INNOVATION competition. The first arward ceremony took place on 21st November 2003 in Zittau. Read more...
---