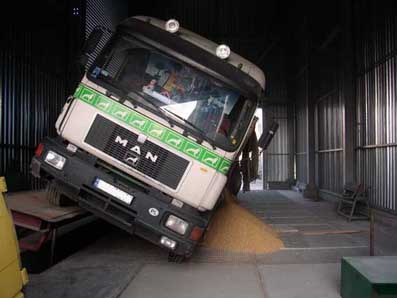 During the building of devices for trasport seed (bucket, chained, belted conveyors etc.) into the silos, cleaners or other warehouses it is necessary to think about solving the problem of unload seed from the transport vehicles

Our company designed car tippler.

---
Offer of realization and sell ot the trunk tipper (Polish)


---
Definition and purpose

The device is designed for lifting cars or trailers with a total length equal 18000 mm (option with two platforms) and uniformly distributed total mass per platform equal 25 t (50 t for two platforms).

Lifting process is done by the system consist of hydraulic cylinders and power source and steered by the electronic control system.



Tippler platforms set has a reliable synchronization system for the single or double platform set at the same time.
This set provides possibility of uniform lifting and lowering vehicles, allows to unload bulk materials from vehicles both one-sidedly and on both sides.


Tipplers devices were mounted in company such as:
- "Golpasz"- Golub-Dobrzyń,
- "Osadowski"- Oleśnica,
- "Zakłady tłuszczowe" (Oleochemical) - Kruszwica,
- "Wielkopolskie Biopaliwa" (Biofuel) - Sława near Poznań,
- "Mozyr" - Republic of Belarus,
- "Elewarr Sp. z o.o." - a division in Pieniężno,
- "Agdor" - Bocheniec,
- "Zakłady tłuszczowe" (Oleochemical) - Brzeg,
- "Dolnośląskie Młyny" (Mill) - Ujazd Górny,
- "Agropol" - Łosiów.